| | |
| --- | --- |
| | |
Friction, Volume 7: Best Gay Erotic Fiction written by Jesse Grant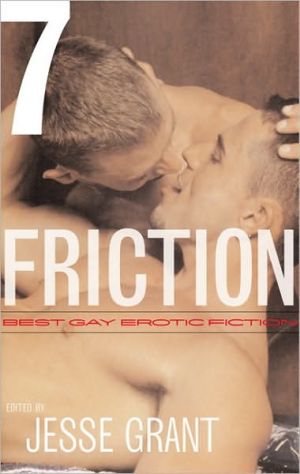 Book Buying Options
Buy Digital Book
Only $99.99

Buy Audio Book
Only $199.98

Title:
Friction, Volume 7: Best Gay Erotic Fiction
Category:
Fiction
Category:
American Literature Anthologies
Category:
Anthologies

Author:

Jesse Grant


Publisher:

Alyson Books


Date Published: February 2004
Pages: 368
ISBN-13:

9781555838270


ISBN-10: 1555838278
Overview:
The Friction series of gay erotica presents the sexiest work of the top writers from the country's most popular gay erotic magazines. It contains the best of thousands of stories published in the past year. The stories in this collection are, simply put, the hottest in print.

Jesse Grant is a writer and editor. He edited Men for All Seasons and has been the coeditor of the Friction series since the second volume.
Synopsis:
The best gay erotic fiction from the top gay men's magazines.
Table of Contents:
| | | |
| --- | --- | --- |
| | Preface | vii |
| | Over the Moon | 1 |
| | Vulnerable Youth | 12 |
| | Quads of Death | 20 |
| | Act of Contrition | 27 |
| | Politically Incorrect | 37 |
| | Man Amplified, Man Squared | 50 |
| | Meet in the Middle | 65 |
| | Army Green | 72 |
| | All Soaped Up | 81 |
| | Bitch | 89 |
| | The Help | 97 |
| | Shrinks | 107 |
| | Making the Team | 116 |
| | Where the Buffalo Roam | 123 |
| | Lucky Night | 134 |
| | Payback | 139 |
| | Wrought Iron Lace | 148 |
| | Trailer Park Punk | 152 |
| | Friday Night at the Calvary Hotel | 160 |
| | Just Looking | 171 |
| | The Long Haul | 177 |
| | The Story of O. Henry, or The Gifts of the Leathermen | 184 |
| | Limo Scene | 193 |
| | Box Boy | 204 |
| | Sex Piggy in the Middle | 213 |
| | Sticks and Balls | 221 |
| | Arkansas Heat | 225 |
| | The Sea Where It's Shallow | 236 |
| | Special Delivery | 246 |
| | 6 Inches of Separation | 254 |
| | The Downward Spiral | 263 |
| | Tail Spin | 270 |
| | Cornered in the Closet | 279 |
| | Artful Fur | 287 |
| | Dear Bobby | 297 |
| | Muscling In | 303 |
| | CU1 | 311 |
| | Piggy | 321 |
| | Contributor Biographies | 330 |
| | Publication Information | 336 |