| | |
| --- | --- |
| | |
Black and White: A Journal of a Three Months' Tour in the United States (Cambridge Library C... written by Henry Latham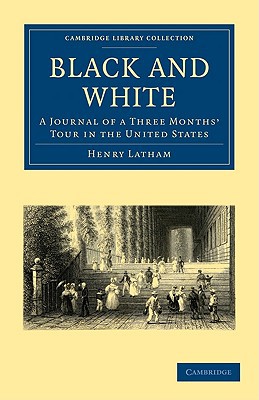 Book Buying Options
Buy Digital Book
Only $31.99

Buy Audio Book
Only $63.98

Title:
Black and White: A Journal of a Three Months' Tour in the United States (Cambridge Library C...
Category:
History
>>
United States
Category:
African American History
Category:
Americas
>>
Travel Essays & Descriptions

Author:

Henry Latham


Publisher:

Cambridge University Press


Date Published: 2009
Edition:

1st


Pages: 324
ISBN-13:

9781108003940


ISBN-10: 110800394X
Overview:
The British barrister Henry Latham's thoughtful letters, describing three months he spent in the United States, were published in 1867. His intention in recording the details of his travels was to encourage other Englishmen and women to visit their American cousins and make their own judgements as to their true manner and spirit. He expressed the hope that greater social contact would foster better understanding between the two nations. Latham remarked that Americans of that period were far more hospitable and hearty than the English, and observed that there existed in the land of freedom a highly motivating suspicion that contentment was a spurious kind of virtue invented by the English aristocracy. To his accounts of cities from Niagara and New York to Atlanta and New Orleans, Latham added supplementary chapters reflecting on the chances of survival for Black and indigenous Americans.
Table of Contents:
1. Liverpool; 2. To New York; 3. To Philadelphia; 4. To Baltimore; 5. To Washington; 6. To Richmond; 7. To Petersburg; 8. To Norfolk; 9. To Charleston; 10. To Augusta; 11. To Atlanta; 12. To Mobile; 13. To New Orleans; 14. To San Jaques; 15. To New Orleans; 16. To Havanna; 17. To New York; 18. To Niagara; 19. To Boston; 20. To Philadelphia; 21. To New York; 22. To Liverpool; 23. The negro; 24. The Indian; 25. The Fenians; 26. The Alabama claims.