| | |
| --- | --- |
| | |
Three Years Among the Working-Classes in the United States during the War (Cambridge Library... written by James Dawson Burn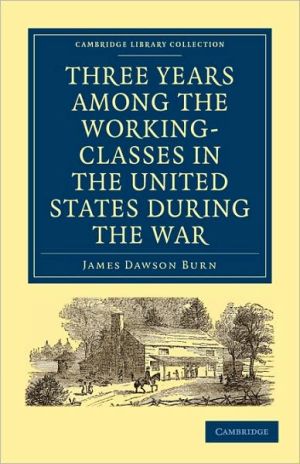 Book Buying Options
Buy Digital Book
Only $35.99

Buy Audio Book
Only $71.98

Title:
Three Years Among the Working-Classes in the United States during the War (Cambridge Library...
Category:
Geographical
>>
North America
>>
USA
>>
Civilization
Category:
19th Century American History
>>
Social Aspects
Category:
19th Century American History
>>
General and Miscellaneous

Author:

James Dawson Burn


Publisher:

Cambridge University Press


Date Published: 10/31/2009
Pages: 332
ISBN-13:

9781108002974


ISBN-10: 1108002978
Overview:
James Dawson Burn's 1865 book endeavours to give a true account of the industrial, social, moral and political state of the working class in America, and is addressed partly to intending emigrants. His study examines the people themselves, as well as the circumstances that influenced their conduct during the Civil War, and draws comparisons between their condition and that of the working class in Europe. Burns, writing from the perspective of an English visitor to the United States, remarks that upon seeing the visible social comfort there, he came to believe that lower-class Americans of the period were far in advance of their peers in his own country. Given that American rights and liberties provided such a strong inducement for the labouring population of Europe to flock to its shores, Burns intended his research to serve as a guide for what they could and could not expect.
Table of Contents:
Preface; 1. The American people; 2. The labouring population—Irish and Germans; 3. The press—administration of justice—public opinion; 4. Religious and moral characteristics; 5. The women of America; 6. The cities of America—New York; 7. The steamboat and railway system of America—street traffic; 8. Education—the free-school system; 9. Business; 10. Mineral wealth of the country; 11. The late civil war; 12. Sanatory fairs and charities; 13. Political condition of the people; 14. Commissioners of emigration—Castle Garden, New York; 15. Advice to intending emigrants.