| | |
| --- | --- |
| | |
Press concentration and monopoly written by Robert G. Picard... [et al.]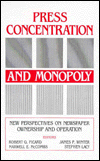 Book Buying Options
Buy Digital Book
Only $85.00

Title:
Press concentration and monopoly
Category:
Newspapers
>>
Magazines
>>
Publishing
Category:
Newspapers & Magazines
>>
History & Criticism
Category:
Competition
>>
Economics

Author:

Robert G. Picard... [et al.]


Publisher:

Norwood, N.J. : Ablex Pub. Corp., c1988.


Date Published: 1988/01/01
Pages: 256
ISBN-13:

9780893914646


ISBN-10: 0893914649
Overview:
This book is the first to address the problem of economic concentration and monolopoly in the newspaper industry. Some of the chapters are written from an economic standpoint and deal with the factors that bring about this occurence with the resulting effect that economic conditions have on newspapers' content. The volume also deals with public policy issues involving antitrust, joint operating agreements and other actions. This study provides pragmatic, reliable, independent information about the results of concentration and monopoly and considers their impact on concrete issues such as news diversity, employee relations, advertising rates, and concern for public service, among others.