| | |
| --- | --- |
| | |
LNG: A Level-Headed Look at the Liquefied Natural Gas Controversy written by Virginia L. Thorndike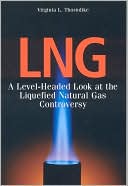 Book Buying Options
Buy Digital Book
Only $15.95

Buy Audio Book
Only $31.90

Title:
LNG: A Level-Headed Look at the Liquefied Natural Gas Controversy
Category:
Business
>>
Economics
Category:
Industries

Author:

Virginia L. Thorndike


Publisher:

Down East Books


Date Published: March 2007
ISBN-13:

9780892727018


ISBN-10: 0892727012
Synopsis:
36til recently, natural gas has not been in the limelight, but that situation is changing fast. Complex issues of energy use and safety are being brought down to in my backyard context for millions of Americans. This book provides balanced information about LNG so people can make informed decisions about whether they want to be neighbors of an LNG facility.
Table of Contents:
Taking a Dispassionate Look at LNG 9
U.S. Energy Basics 11
Natural Gas from the Beginning 21
Aspects of the LNG Distribution Business in the United States 35
Deepwater Operations 71
LNG Carriers and Their Crews 81
LNG Characteristics and Hazards 107
LNG-Related Accidents (and Those Blamed on LNG) 121
Questions of Cost and Supply 133
Considerations of Terrorism 137
Listening to Stakeholders: The Licensing Process 145
Standards 163
Two Contrasting Projects 175
Different Regions, Different Results 193
Those Opposed 203
Bottom Line 209
Acknowledgments 219
Notes 221
Index 228