| | |
| --- | --- |
| | |
Writing Deafness: The Hearing Line in Nineteenth-Century American Literature written by Christopher Krentz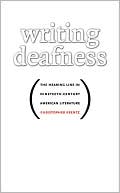 Book Buying Options
Buy Digital Book
Only $19.95

Title:
Writing Deafness: The Hearing Line in Nineteenth-Century American Literature
Category:
Literary Studies
>>
Criticism
Category:
American

Author:

Christopher Krentz


Publisher:

University of North Carolina Press, The


Date Published: July 2007
Edition:

New Edition


ISBN-13:

9780807858103


ISBN-10: 0807858102
Synopsis:
Taking an original approach to American literature, Christopher Krentz examines 19th-century writing from a new angle: that of deafness, which he shows to have surprising importance in identity formation. He demonstrates that deaf and hearing authors used writing to explore their similarities and differences, trying to work out the invisible boundary, analogous to Du Bois's color line, that Krentz calls the "hearing line." Discusses authors including James Fenimore Cooper, Lydia Huntley Sigourney, Herman Melville, and Mark Twain.
Table of Contents:
Acknowledgments xi
Introduction i
I Write What You Speak: Writing and the Emergence of the American Deaf Community, 1816-1835 21
Essaying the Unsayable: The Deaf Presence in Antebellum American Literature 63
Powers of Deafness: Deaf Characters by Hearing Authors 99
A Sense of Two-ness: Deaf Double Consciousness at Midcentury 131
Playing with the Hearing Line: Deafness, Passing, and Laughter 171
Epilogue 203
Notes 213
Bibliography 233
Index 253