| | |
| --- | --- |
| | |
English and International: Studies in the Literature, Art and Patronage of Medieval England written by Derek Pearsall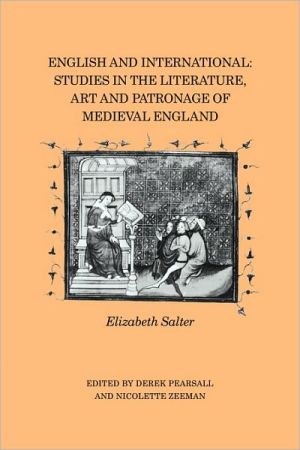 Book Buying Options
Buy Digital Book
Only $46.00

Title:
English and International: Studies in the Literature, Art and Patronage of Medieval England
Category:
Literature
>>
English
>>
General & Miscellaneous
>>
Literary Criticism
>>
Literary Criticism
Category:
British Art
Category:
Medieval Art

Author:

Derek Pearsall


Publisher:

Cambridge University Press


Date Published: February 2010
Edition:

Reissue


Pages: 408
ISBN-13:

9780521131612


ISBN-10: 0521131618
Overview:
This 1988 volume, collected here are the principal essays of Elizabeth Salter published between 1966 and her death in 1980, together with three chapters of a book on the literary culture of England in the twelfth and thirteenth centuries on which she was working in the last years of her life, and a version of her brilliant lectures on the theme of the Annuciation to the Shepherds in literature, drama and art given during those years. Elizabeth Salter is recognised as one of the most distinguished medieval scholars of her generation, particularly noted for her work on Langland and Chaucer, and on the relationship of literature and the visual arts. The strength and consistency of her views, the persistent and urgent nature of her preoccupations, and the depth of scholarship and skill of presentation, all emerge more clearly than ever in this volume.
Table of Contents:
List of plates and plate acknowledgements; Acknowledgements; Foreword; List of abbreviations; Part I. An Obsession with the Continent: Introduction; 1. Cultural patterns in twelfth-century England: Norman and Angevin; 2. Culture and literature in earlier thirteenth-century England: national and international; 3. England and the continent during the thirteenth century: royal and aristocratic patronage; Part II. Piers Plowman and Alliterative Poetry: 4. The alliterative revival; 5. Piers Plowman: an introduction; 6. Piers Plowman and The Simonie; 7. Alliterative modes and affiliations in the fourteenth century; 8. The timeliness of Wynnere and Wastoure; 9. A Complaint against Blacksmiths; Part III. Chaucer: 10. Troilus and Criseyde: a reconsideration; 11. Troilus and Criseyde: poet and narrator; 12. Chaucer and Internationalism; Part IV. Literature and the Visual Arts: 13. Medieval poetry and the visual arts; 14. Piers Plowman and the visual arts; 15. The Troilus Frontispiece; 16. The Annuciation to the Shepherds in later medieval art and drama; Notes; Bibliography of the published writings of Elizabeth Salter; Index.