| | |
| --- | --- |
| | |
Selection from Scrutiny, Vol. 1 written by Frank R. Leavis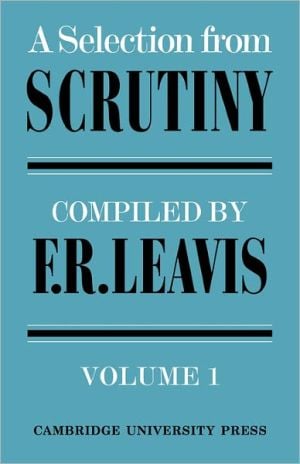 Book Buying Options
Buy Digital Book
Only $50.00

Title:
Selection from Scrutiny, Vol. 1
Category:
Literature
>>
English
>>
Anthologies

Author:

Frank R. Leavis


Publisher:

Cambridge University Press


Date Published: April 1968
Pages: 328
ISBN-13:

9780521095082


ISBN-10: 0521095085
Overview:
Dr Leavis's Selection from Scrutiny gives in two volumes important material which is not easily available elsewhere. Though many well-known books have already been derived from Scrutiny, these two volumes do not duplicate material in those books, and they give a great deal of otherwise uncollected material by Dr & Mrs Leavis themselves. The selection concentrates on English literature and literary criticism, and also reflects Scrutiny's success, from the 1930s to the 1950s, in commenting on the important writers of the time. Volume I begins with a collection of studies by Mrs Q. D. Leavis on academic traditions. There follows a section of studies of T. S. Eliot, Yeats, Pound, and more recent poets. Two sections on 'Literary Culture' and 'The Literary World' comment on minor writers and on literary life and institutions (including Dr Leavis's celebrated 'Keynes, Spender and Currency Values').
Synopsis:
Volume 2 of A Selection from Scrutiny opens with Mrs Leavis's much quoted studies, which together form 'A Critical Theory of Jane Austen's Writings'.
Table of Contents:
1. Jane Austen;
2. Novelists Reviewed;
3. Henry James's Heiress;
4. Wordsworth;
5. On Metaphysical Poetry;
6. 'As you like it';
7. Revaluation: John Webster;
8. The English Tradition;
9. The History of Critical Journalism;
10. The Responsible Critic;
11. Valedictory.