| | |
| --- | --- |
| | |
The Mabinogi and Other Medieval Welsh Tales written by Patrick K. Ford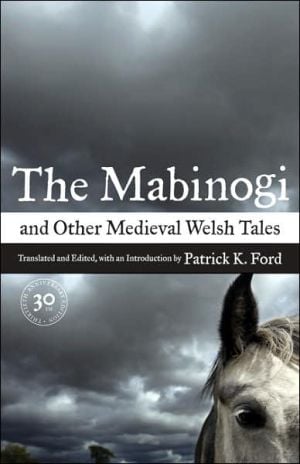 Book Buying Options
Buy Digital Book
Only $22.81

Buy Audio Book
Only $45.62

Title:
The Mabinogi and Other Medieval Welsh Tales
Category:
Literature
>>
English
>>
Anthologies

Author:

Patrick K. Ford


Publisher:

University of California Press


Date Published: February 2008
Edition:

2nd Edition


Pages: 224
ISBN-13:

9780520253964


ISBN-10: 0520253965
Overview:
The title Mabinogi refers to the first four stories in this collection of tales from Welsh tradition. They are best known as the "Four Branches of the Mabinogi," and comprise the tales of Pwyll, Brandwen, Manawydan, and Math. The remaining stories also spring from the same tree, and together they form a collection that comprises the core of the ancient Welsh mythological cycle. They are also among the best that medieval Celtic literature has to offer.
Synopsis:
The four stories which make up the Mabinogi along with three additional tales from the same tradition form this collection and comprise the core of the ancient Welsh mythological cycle.
Included are only those stories that have remained unadulterated by the influence of the French Arthurian romances, providing a rare, authentic selection of the finest works in medieval Celtic literature.
In this first thoroughly revised edition and translation since Lady Charlotte Guest's famous Mabinogion in 1849, Patrick Ford has presented a scholarly document in readable, modern English, a literary achievement of the highest order.
Table of Contents:
Preface
Introduction Select Bibliography

Pwyll, Prince of Dyfed Branwen daughter of Llyr Manawydan son of Llyr Math son of Mathonwy Lludd and Lleuelys Culhwch and Olwen The Tale of Gwion Bach and the Tale of Taliesin

Apprendix: Cad Goddeu
Glossary A Guide to Pronunciation
Index of Proper Names