| | |
| --- | --- |
| | |
Candide written by Voltaire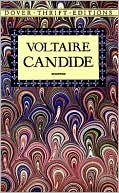 Book Buying Options
Buy Digital Book
Only $99.99

Buy Audio Book
Only $199.98

Title:
Candide
Category:
Literary Studies
>>
Criticism
Category:
Books & Reading

Author:

Voltaire


Publisher:

Dover Publications


Date Published: January 1991
Edition:

Special Value


ISBN-13:

9780486266893


ISBN-10: 0486266893
Synopsis:
Francois-Marie Arouet, known better as Voltaire, was hailed as a genius of the Enlightenment, a man dissatisfied with the religious and superstitious attitudes of his time, and a champion of sharp irony and logical reasoning. His most famous book follows Candide and his tutor, Pangloss, as they travel the Earth following the philosophy that "all is for the best in the best of all possible worlds." This adage, however, is disproved at many turns as the characters encounter many obstacles. The initially naïve Candide realizes some of the horrors the 18th-century world contains, but is there any light at the end of the tunnel for the travelers?
Library Journal
Two standards of European literature join Penguin's Classics Deluxe Editions club. Candide sports an especially spiffy cover by comic artist Chris Ware and a top text. The Undset volume combines all three parts of the epic with explanatory notes. Copyright 2005 Reed Business Information.
Table of Contents:
| | | |
| --- | --- | --- |
| | Candide, or optimism | 1 |
| App. 1 | The alternative version of the opening of chapter 22 | 95 |
| App. 2 | Voltaire's Poem on the Lisbon disaster | 97 |
| App. 3 | Entries from Voltaire's Philosophical dictionary | 109 |