| | |
| --- | --- |
| | |
Feminist Revolution in Literacy: Women's Bookstores in the United States written by Junko R. Onosaka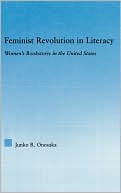 Book Buying Options
Buy Digital Book
Only $118.00

Title:
Feminist Revolution in Literacy: Women's Bookstores in the United States
Category:
Literary Studies
>>
Criticism
Category:
Books & Reading

Author:

Junko R. Onosaka


Publisher:

Taylor & Francis, Inc.


Date Published: March 2006
Edition:

1ST


ISBN-13:

9780415975964


ISBN-10: 0415975964
Synopsis:
This book examines the history of women's bookstores in the US from the 1970s to the 1990s. "Women's bookstores" (synonymously called "feminist bookstores") refers to bookstores operated by and for women, the number of which reached over 100 by the early 1990s. Such bookstores emerged out of the second women's movement as well as the lesbian and gay rights movement. This book establishes that women's bookstores played an important role in feminism by enabling the dissemination of women's voices and thereby helping to sustain and enrich the women's movement. The crucial step toward the development of women's bookstores started with the first national Women In Print Conference in 1976. As an important part of the feminist publishing community, it gathered strength centered around the periodical Feminist Bookstore News, a fruit of the conference. It emphasized the ecosystem of the feminist publishing community and the importance of networking. Numerous feminists, especially lesbian feminists, were dedicated not only to carrying women's works, but also to offering or organizing political, cultural and educational programs and events. In doing so, women's bookstores improved women's literacy-abilities to read, write, publish, and distribute women's voices and visions-and helped women to instigate a feminist revolution in literacy.
Table of Contents:
| | | |
| --- | --- | --- |
| 1 | Introduction | 1 |
| 2 | The days when we had no women's bookstores | 9 |
| 3 | The birth of women's bookstores | 25 |
| 4 | Women's bookstores in the 1970s : lesbian feminists and Feminist Bookstore News | 45 |
| 5 | Women's bookstores in the 1980s part I : backlash and challenge | 69 |
| 6 | Women's bookstores in the 1980s part II : conflicts and growth beyond backlash | 93 |
| 7 | More than a bookstore : books and visions | 117 |
| 8 | Women's bookstores in the 1990s | 137 |
| 9 | Conclusion | 157 |