| | |
| --- | --- |
| | |
Now Read On written by John McRae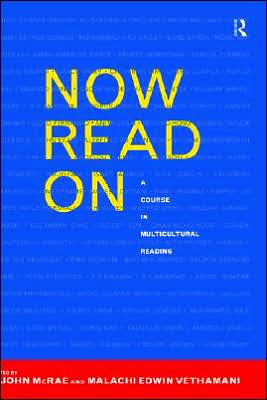 Book Buying Options
Buy Digital Book
Only $130.00

Title:
Now Read On
Category:
Literature
>>
English
>>
Anthologies
Category:
Anthologies

Author:

John McRae


Publisher:

Taylor & Francis, Inc.


Date Published: February 1999
Pages: 240
ISBN-13:

9780415182164


ISBN-10: 0415182166
Overview:
Now Read On brings together literatures in English from around the world, combining an excellent choice of texts with sound methodological guidance.It contains approximately eighty texts and extracts from countries andcontinents including:
*Africa
*Australia
*Great Britain
*India
*Malaysia
*New Zealand
*Philippines
*Singapore Designed as course for both native and non-native English-speakers in how to read literature, this anthology begins with shorter starter texts and questions, and develops in complexity as the reader progresses through the book. Now Read On provides the user with
*hands-on experience of working with a plurality of texts from around the world
*questions, exercises, pointers and commentary, accompanying all the passages of literature, and providing the student with the tools and confidence to critically evaluate any text
*an understanding of the major genres - poetry, short stories, drama and novels.
Synopsis:
The first anthology to combine literatures from around the world on an equal footing. Designed as a course for non-native English speakers in how to read literature. Contains extracts, questions, exercises and commentary.
Table of Contents:
| | | |
| --- | --- | --- |
| | Acknowledgements | |
| | To the student | |
| | To the teacher | |
| Sect. 1 | Poetry | 3 |
| | The Wall | 3 |
| | You Ask Me | 4 |
| | This Is Just to Say | 4 |
| | Offerings | 6 |
| | Hello | 7 |
| | Her Face | 7 |
| | Colonizer's Logic | 8 |
| | Goodbye, Europeans | 8 |
| | So We'll Go No More A-Roving | 9 |
| | Dance | 9 |
| Sect. 2 | Short Stories | 12 |
| | The Disinterested Arbiter | 13 |
| | In Our Times | 14 |
| | A Fable | 15 |
| | The Weapon | 17 |
| | Mother | 22 |
| | The Journey | 23 |
| | Reading the Signs | 26 |
| Sect. 3 | Plays | 28 |
| | Bingo | 28 |
| | Five Snippets | 30 |
| | The Importance of Being Earnest | 32 |
| | Silence | 33 |
| | Macbeth | 35 |
| | The Bear | 35 |
| Sect. 4 | Novels | 39 |
| | Sons and Lovers | 39 |
| | A Farewell to Arms | 40 |
| | Keep the Aspidistra Flying | 42 |
| | No Harvest But a Thorn | 45 |
| | The God of Small Things | 47 |
| | Scorpion Orchid | 48 |
| | A Village by the Sea | 49 |
| Sect. 5 | Poetry | 53 |
| | In My Country | 53 |
| | Mandela's Sermon | 53 |
| | Bride Price | 54 |
| | Bride's Complaint | 55 |
| | The Rime of the Ancient Mariner | 55 |
| | La Belle Dame sans Merci | 60 |
| | The Charge of the Light Brigade | 63 |
| | Daffodils | 65 |
| | Rainbow | 67 |
| | The Dulang-Washer | 68 |
| | Woman Work | 69 |
| | Men Are | 71 |
| | A narrow Fellow in the Grass | 73 |
| | Three Beserah Fishermen | 74 |
| | The Convergence of the Twain | 77 |
| Sect. 6 | Short Stories | 80 |
| | Three Points of Entry | 80 |
| | The Force of Circumstance | 89 |
| | True Love | 91 |
| | May Day Eve | 95 |
| | The Garden Party | 97 |
| | You Are Now Entering the Human Heart | 98 |
| Sect. 7 | Plays | 105 |
| | Macbeth | 105 |
| | A Night Out | 107 |
| | Dance Like a Man | 109 |
| | In the Name of Love | 111 |
| Sect. 8 | Novels | 113 |
| | Animal Farm | 113 |
| | Shane | 114 |
| | To Kill a Mockingbird | 116 |
| | Walkabout | 121 |
| Sect. 9 | Poetry | 131 |
| | Time | 131 |
| | Stop All the Clocks | 132 |
| | Because I could not stop for Death | 133 |
| | Anthem for Doomed Youth | 134 |
| | Futility | 135 |
| | Song of the Battery Hen | 136 |
| | Fantasy of an African Boy | 137 |
| | New York Times | 138 |
| | When I Have Fears | 139 |
| | To Autumn | 141 |
| Sect. 10 | Short Stories | 144 |
| | The Bank Robbery | 144 |
| | Drive | 147 |
| | The Hound of the Baskervilles | 149 |
| | Like Birds, Like Fishes | 153 |
| | Everything's Arranged | 154 |
| | Rains | 156 |
| | The Open Window | 157 |
| Sect. 11 | Plays | 162 |
| | Pygmalion | 162 |
| | The Importance of Being Earnest | 167 |
| | Hamlet | 172 |
| | As You Like It | 174 |
| | Julius Caesar | 176 |
| | The Swamp Dwellers | 177 |
| | Sizwe Bansi Is Dead | 180 |
| Sect. 12 | Novels | 186 |
| | Of Mice and Men | 186 |
| | The Return | 190 |
| | The Man-Eater of Malgudi | 194 |
| | Things Fall Apart | 200 |
| | Examination strategies | 206 |
| | Text appendix | 209 |
| | Index of authors | 221 |