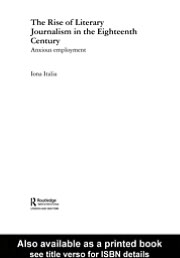 Title:
The rise of literary journalism in the eighteenth century

Author:

Iona Italia


Publisher:

London ; Routledge, 2005.


Date Published: 2/22/2005
ISBN-13:

9780203023532


ISBN-10: 0203023536
Book Buying Options
Buy Digital Book
Only $153.00

Overview:
Recent years have witnessed a heightened interest in eighteenth-century literary journalism and popular culture. This book provides an account of the early periodical as a literary genre and traces the development of journalism from the 1690s to the 1760s, covering a range of publications by both well-known and obscure writers. The book's central theme is the struggle of eighteenth-century journalists to attain literary respectability and the strategies by which editors sought to improve the literary and social status of their publications.
Table of Contents:
Preface And Acknowledgements Notes On The Text Introduction: The Rise of The Periodical 1. 'Censor-General of Great Britain': The Tatler and the Editor as Social Monitor 2. 'The Conversation of my Drawing-Room': The Female Editor and the Public Sphere in the Female Tatler 3. 'In Clubs and Assemblies, At Tea-Tables, and in Coffee-Houses': The Spectator and the Shift From the Editorial Club to the Club of Correspondents 4. 'Faction And Nonsense': The Rivalry Between Common Sense and the Nonsense of Common Sense 5 Inventor or Plagiarist? Edward Cave and the First Magazine 6. Polite, Genteel, Elegant: The Female Spectator and the Editor's Pretensions to Gentility 7 'Writing Like a Teacher': Johnson as Moralist in the Rambler 8 'A Becoming Sensibility': The Old Maid and the Sentimental Periodical 9. 'Studies Proper For Women': The Lady's Museum and the Periodical as an Educational Tool 10/ 'Buried Among the Essays Upon Liberty, Eastern Tales, and Cures for the Bite of a Mad Dog': Oliver Goldsmith and the Essayist in The Age of Magazines Notes Bibliography Index